Our Class A OTR Drivers earn up to $50k in their 1st year, with weekly home time & a $1,000 Sign On Bonus!
If you're looking for a company that provides Great Pay, Excellent Benefits including 401k, 1st Year Paid Vacation, Paid Holidays, and Weekly Home Time, then please apply below. You may also call us at 336.956.6200 or come to our Lexington NC terminal at 317 Green Needles Rd, Lexington NC.
Job Title: Class A CDL Regional Driver

Home Terminal: Lexington NC
Starting Pay: $0.40 per mile
Fleet Manager to Driver Ratio: 20:1 - so you get the support you deserve!
Home Weekly
$1,000 Sign-On Bonus & Driver Referral Bonus
No-Touch Freight
Medical, Dental, Vision, Life, 401K
Newer Model Petes w/ Fridges -average age 2 years old
Family Environment & Driver Friendly Atmosphere
Requirements

Valid Class A CDL with 12 months verifiable Class A driving experience
No preventable DOT recordable accidents in the last 3 years
No more than 2 Non-DOT reportable accidents in the last 12 months or 3 in the last 3 years
CSA score of no more than 50 with no more than 30 points in Unsafe Driving category
No alcohol related violations in the last 5 years
No speeding tickets over 15 mph or citations for reckless or unsafe driving in the last 3 years
No felony convictions in the last 10 years & no misdemeanor convictions in the last 3 years (drug related 10 years)
Must be able to pass company administered road test / DOT drug screen
No positive drug or controlled substance test at previous employers
No refusals for drugs and/or alcohol tests while operating a Commercial Motor Vehicle

Apply Now
Meet a Few of Trinity's Professional Truck Drivers:
Joe Elkins
Professional Truck Driver
"When I came to Trinity 12 years ago, I came from a large carrier that just looked at you as a number. But, from day one, I found that I was in a place where everyone made me feel at home AND not just another face. It's a great feeling to know they're glad you work there and that you will have a place as long as you want!"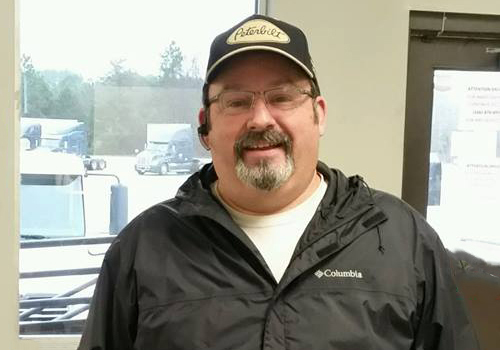 Mike Brown
Professional Truck Driver
"I started out part-time with Trinity Transport and they were always willing to help me any way they could. They would ask me regularly if if I was ready to become full-time. The door finally opened and I have found my home, family, and a company that has great respect for their drivers! I LOVE it here!!!"